Accu-Chek Guide Wireless Blood Glucose Meter
Accu-Chek Guide Wireless Blood Glucose Meter
The Accu-Chek Guide blood glucose meters provides fast, pre- and post-meal markers with audible reminders and the ability to transmit results directly to your smartphone through the Accu-Chek Connect app.
Free no-hassle returns
Eject used test strips from the meter with the push of a button
Test in any light, thanks to a bright, backlit display and a strip port lightFast, easy-fill strip - results in less than 4 seconds
Fasting, pre- and post-meal markers with audible reminders
More tracking knowledge with 7-, 14-, 30- and 90-day averages of your blood glucose levels
Stores up to 720 test results
Have the option of transmitting results to the Accu-Chek Connect app on your smartphone
Share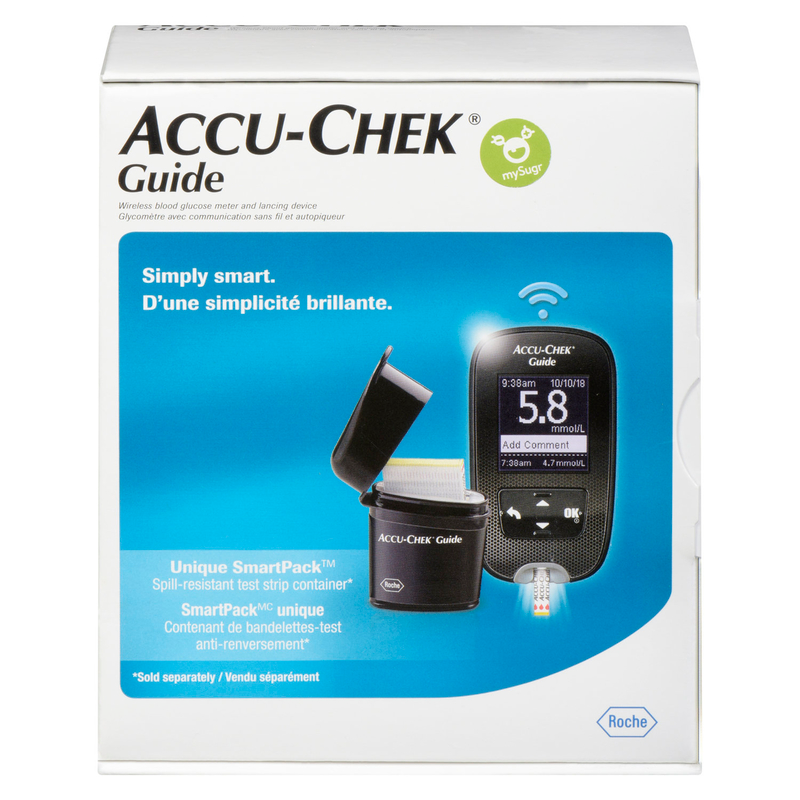 Medications may cause serious adverse reactions or interactions with other medications. Please read the label, warnings and inserts provided by the manufacturer and consult your pharmacist when purchasing such medications. Keep medications out of reach of children.
Have questions or need support?
Our pharmacy team is there to help you at every step of the way - Even if you don't have an account with us yet!
*Prescription delivery is always free in Ontario and British Columbia. Non-prescription items delivered free with prescription or with purchase over $40 before tax.