Restoralax 30 doses
Restoralax 30 doses
Restoralax provides gentle relief from constipation.
This 30-dose size bottle includes a convenient measuring cap that allows for a single 17g dose.
Free no-hassle returns
Restoralax works with the water in the body for effective relief of occasional constipation without causing unpleasant side effects such as flatulence, bloating, cramping and without causing sudden urges to have a bowel movement. It dissolves easily in water, fruit juice or any other non-alcoholic drink, hot or cold.

In most people, stools are passed within 24 to 72 hours of treatment.
Medicinal ingredient: polyethylene glycol 3350.
The bottle has a dosing cap. Fill the cap to the top of the white part indicating the dose to be taken (17 g). Mix and dissolve in 8 ounces (250 ml) of the liquid of your choice (water, juice, tea - cold hot or room temperature) and drink it. Take one dose (17g) once a day as needed. Do not take more than the indicated dose unless advised by your doctor. The safety and effectiveness of Restoralax in children under 18 years of age have not been established. Do not use in children (18 years and younger) unless directed by your doctor.
Share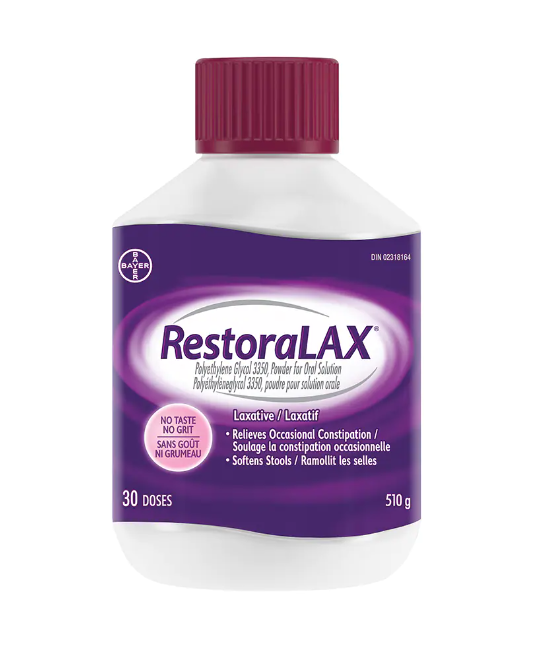 Medications may cause serious adverse reactions or interactions with other medications. Please read the label, warnings and inserts provided by the manufacturer and consult your pharmacist when purchasing such medications. Keep medications out of reach of children.
Have questions or need support?
Our pharmacy team is there to help you at every step of the way - Even if you don't have an account with us yet!
*Prescription delivery is always free in Ontario and British Columbia. Non-prescription items delivered free with prescription or with purchase over $40 before tax.